Decoding Healthcare IT Staffing: How a Staffing Consultant Can Open Doors in the Industry
Inside the complex healthcare field lies the even more complex field of healthcare IT. This field requires staff that have knowledge and understand healthcare, along with an equally deep understanding of healthcare's IT needs and how to fulfill them.
Besides the software needed to do everything from completing enrollment paperwork to dispensing medications and running robotic surgery equipment, healthcare IT also includes the growing telehealth subfield and all that it requires. IT is surprisingly ubiquitous in healthcare, requiring extensive staff to keep the technology up to date.
A Healthcare IT staffing consultant provides strategic guidance and expertise related to the management, development, and optimization of the healthcare industry's information technology (IT) workforce. This role assists healthcare companies and organizations with the difficult task of recruiting top talent in the healthcare IT field while at the same time assisting job seekers in finding the right position for their skills in the industry.
The Role of a Staffing Consultant in Healthcare IT
Talent acquisition and recruitment are the top roles for healthcare IT staffing consultants, but they can also provide development and training, analyze skills gaps, and undertake strategic planning for staffing needs. Having a staffing consultant can enable healthcare organizations to find the best staffing for their needs in healthcare IT, and contribute to smoother workflows and steady growth.
While staffing consultants are employed by the healthcare company, they are also tasked with helping job seekers find positions that will benefit them and showcase their skills optimally. Fulfilling healthcare IT staffing needs is a win-win for both the company and the job seeker; consultants are well aware of this.
Particularly in complex fields that require specific skills and abilities like healthcare IT, staffing consultants help companies navigate the job market and find talented workers who can handle the field's challenges. They can be a bridge between healthcare and IT domains so that companies find the best of both worlds in their workers.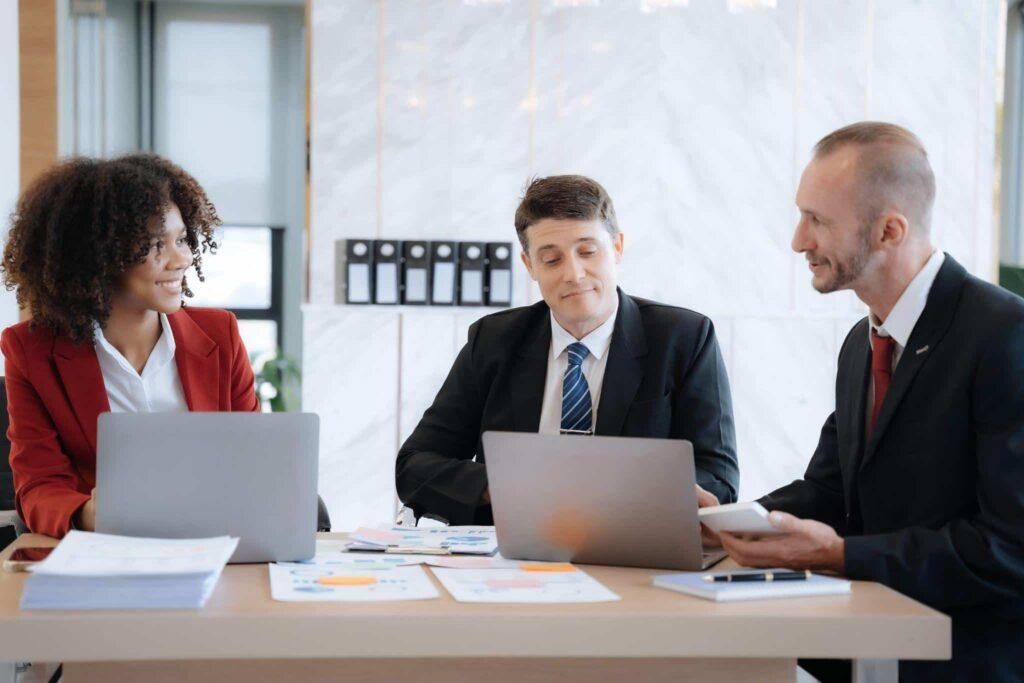 The Advantages of Working with a Staffing Consultant in Healthcare IT
Maybe you think you have the job search process well in hand and don't need any assistance, but unless you already have a solid job offer, you will benefit from a partnership with a staffing consultant in the healthcare staffing industry. It's the difference between combing through multiple job listing websites on a daily basis to look at hundreds of new job listings and having a small number of curated listings that match your skills sent straight to your inbox for perusal.
Staffing consultants are keenly aware of specific roles companies seek to fill and can point you toward the positions best suited to your skills. In addition, staffing consultants can also help you capitalize on your strengths and even practice for the interview if needed. As consultants, they work with job seekers every day and get to know them so that they can advocate with a prospective employer when the time comes.
In today's job market, networking is one of the top ways job seekers find new opportunities, and staffing consultants have extensive networks to connect job seekers with essential people in the field. Not all job opportunities are posted publicly, meaning that staffing consultants may be privy to opportunities you won't find any other way unless you know the hiring manager personally.
Finally, staffing consultants can help enhance your skills when needed and give you feedback after the interview process to help determine why you didn't get the job. This information is sometimes difficult to get and can help you better prepare for future interviews.
How a Staffing Consultant Facilitates Your Healthcare IT Job Search
When you first begin to work with a staffing consultant as part of your healthcare IT job search, the consultant will take some time to get to know you, both the technical skills you can bring to a job and the soft skills like managing people and projects, navigating difficulties in the workplace, or adapting to new workplace realities. The consultant will also learn about your experience in the field and what you have accomplished.
Once the consultant has a good picture of your skills and experience, they can match you with jobs they are trying to fill and present your resume and other information to the prospective employer's hiring team. Meanwhile, if you need help polishing your resume or practicing for an interview, the consultant can get you help in these areas.
Other specific strategies staffing consultants use include assisting with mock projects and simulations that may be part of the interview process. Because the consultants have spent as much time getting to know what the employer wants as they have getting to know you, they will be able to give you helpful tips to impress the employer with your skills and feedback on how to put your best foot forward.
High Value
Healthcare IT staffing consultants offer high value to job seekers and ask for little in return other than doing your best to land a great job–something you're trying to do anyway. Both healthcare organizations and job seekers need the healthcare staffing solutions they provide. With so much to gain and nothing to lose, why not seek out a staffing consultant today?
Your ideal job is waiting for you. Let's find it.