Top 5 Resume Tips for Aspiring IT Professionals
IT jobs have been plentiful for a long time, but they can also be competitive depending on the type of job you seek and the skills needed for the position. As with any field, the best jobs are the most competitive and require you to have the perfect resume, or at least the best one possible.
A well-crafted resume is the first crucial step to getting an IT job that pays well and uses your skills. Using the resume tips in this article, you will stand out in a competitive market.
Why a Good Resume is Crucial
Your resume is important because it is the first thing a hiring manager sees when you apply for a job. Your resume describes your skills and work history, in essence representing you as an IT worker to the employer.
If your IT resume isn't one of the top few received for a particular job, it has very little chance of being seen because of application tracking systems (ATS) that prescreen most resumes. According to research, over 98% of Fortune 500 companies use ATS, along with 66% of mid-sized companies and 35% of small companies.
Even if a hiring manager reads your resume, statistics show that only six to eight seconds are spent on the initial screening. That's why your resume needs to stand out from the crowd.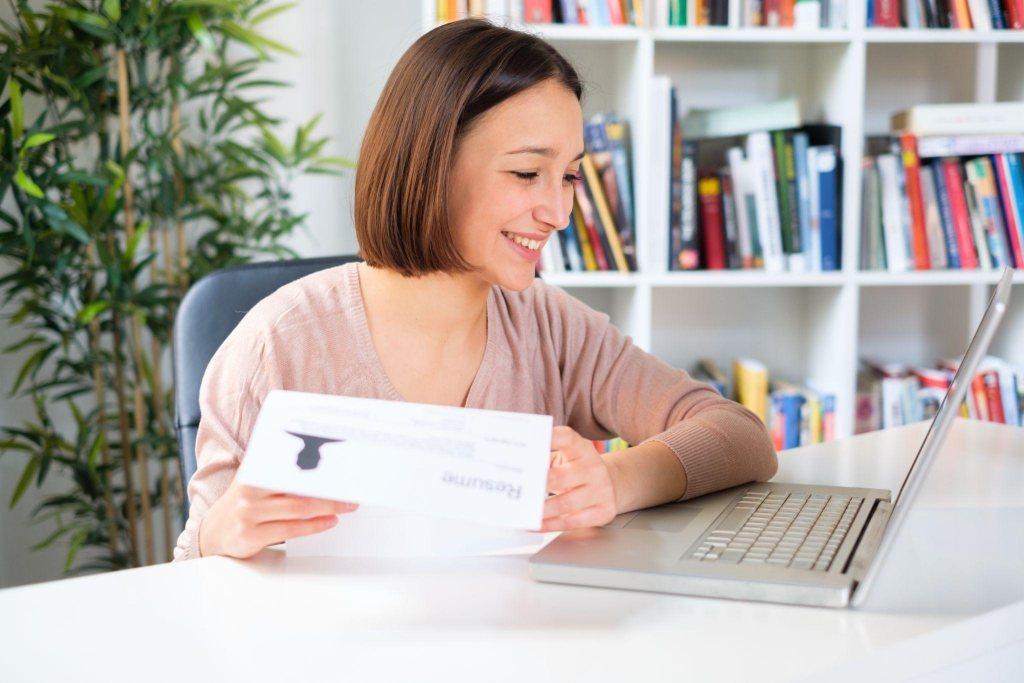 Top 5 Resume Tips
1. Tailoring Content to the Job Description
Your resume should be tailored for each job you apply for, using relevant keywords from the description to get picked up by the ATS and show that you have the technology experience and training each employer seeks.
The most likely areas for customization include description of your tasks and accomplishments for each job in your job history. If your job history is lengthy, you may want to emphasize the jobs most relevant to each job description.
Other IT resume features you will want to feature include required skills and certifications, any volunteer work that relates to the job, and if you would like to include your objective.
2. Highlighting Technical Skills and Certifications
Most IT jobs require or expect specific certifications, which show the particular skills required for the job and require you to pass a rigorous examination demonstrating those skills. Employers greatly value these certifications because of their rigor and reputation in the industry.
Your resume should list all certifications you have earned along with degrees, but should feature the certifications desired for each specific job along with any that are related. If you gained other skills but didn't get the certification in that area, you should highlight those skills on your resume as well.
If you have lots of experience in other IT positions, you should make your job history more prominent on the resume. On the other hand, if you have more education and certifications but less job experience, those should be more prominent.
3. Project Experience and Achievements
It is common for IT professionals to work on side projects that they post on github, stackoverflow or other online sites. If you have any such projects, adding and linking to them on your resume is a great way to stand out and show employers what you can actually do.
Not only can a side project show your expertise in your area of IT, it can also show a passion for the job that will be very attractive to employers. Another way to show what you can do in a tangible way is to list quantifiable achievements within your job history or as a separate section on your resume.
4. The Importance of Soft Skills
While technical skills take precedence in the IT field, there is also a place to highlight soft skills. Here are some soft skills that are crucial to IT jobs:
Problem-solving is needed to figure out difficult programming problems and manage complex projects.
Communication is needed to work within a team, which is how IT staff commonly work.
Attention to Detail is needed to catch small errors in coding, configuration of systems, or to provide effective customer service.
Adaptability is needed to pivot when a situation isn't working and to transition from one project to another quickly.
Time Management is needed for productivity and to manage a full workload effectively.
Creativity is needed to create new programs, systems, and solutions for clients.
Demonstrating these soft skills on your resume usually involves describing times when you have used them, and what the quantifiable results have been.
5. Formatting and Design Elements
There are many resume templates available to help with formatting so that your resume will look neat and easy to read. Keeping the design simple and clean is the best idea; a cluttered resume will be hard to read, so hiring managers likely won't try.
Your resume should have plenty of white space. It should be about a page long unless it is only in a digital format, which makes length less important. Bullet points should be used rather than paragraphs, which makes the resume easier to read. The ideal number of bullet points per item on your resume is 3-6; any less and you don't look accomplished, any more and it becomes too long to read.
It is not recommended to put a picture or other personal information (like marital status) on your resume because some diversity and inclusion practices preclude their use. Just your address, phone and email are enough.
Common Mistakes to Avoid
Here are some common mistakes people make on their resumes:
Going all the way back to your first job in high school
Lying on your resume
Including irrelevant information, such as old jobs from a previous career 20 years ago
Not explaining career gaps
Using the same resume for every job application
Having a trusted colleague look over your resume may bring up any red flags you need to take care of.
If you need help with your IT resume or any aspect of the job search process, a GDH recruiter will be glad to help you get clarity to navigate the process more expertly. Your ideal job is waiting for you. Let's find it.